Are you looking for the perfect standby generator to escape an emergency power outage? Or you probably need a backup to ensure your business never runs out of electricity. Whatever your reason may be, this article is just for you.
Owning a standby generator gives you a powerful backup to power offices or homes for extended periods. However, knowing the right one to purchase can be tiring.
Hence, this article lists the six best standby generators with their features and capabilities. Whether you need the generator for your home, business, or outdoors, you will eventually make an informed decision with this article.
| | | |
| --- | --- | --- |
| | | |
| | User-friendly Standby Generator | |
| | Power efficient Standby Generator | |
| | Reliable Standby Generator | |
| | Fuel Efficient Standby Generator | |
| | Standard Standby Generator | |
| | Standard Standby Generator | |
Things To Look Out For When You Are Buying A Standby Generator
Before buying a standby generator, you have to understand several factors that determine a good generator. You will also need to know which generator is suitable to cater to your needs.
Noise level
Nowadays, there are more generators with quiet operations coming out to the market. The Ideal noise level for a generator should be less than 60 dB. If you live in a residential area, we recommend a generator with a noise level of around 50 dB to avoid disturbance. In most cases, standby generators are noisy, but some offer quieter operations.
Power
Power is one of the most crucial aspects of a generator to determine performance metrics. Ideally, you need a generator that powers all your appliances, whether at home or in the office. Hence look for a generator with a power output of at least 7000 watts.
Portability
A portable generator can be easily movable for outdoor activities. In the case of standby generators, most are designed to be on a permanent spot. In case you need a standby generator for outdoor use, there are a few models available.
Parallel capability
With parallel capability, you can connect multiple generators together to double or triple the power output. If this is something you would like to try in the future, look for models that are parallel capable.
Clean Energy
Presently, climate changes are a big concern, hence the impact of generators on the environment is more crucial than ever. For this reason, modern generators run on cleaner fuels such as propane or natural gas leading to lower emissions – better for the environment than gasoline generators.
Specs and Comparison Table of the Best Standby Generators
Generac 70432 Home Standby Generator

Liquid Propane: 22,000 peak watts




Natural gas: 19,500 peak watts

466 lb




Liquid propane: Propane: At half load consumption at 2.53 gal/hr

DuroStar DS13000EH Dual Fuel Portable Generator

Gasoline: 13,000 peak watts




Propane: 12,350 peak watts

236 lb


Gasoline: Up to 8 hours (8.3 gallons / 31L )

Gasoline: 12,500 peak watts




Propane: 11,200 peak watts

226 lb




Gasoline: Up to 12 hours at 25% load (6.6 gals/ 25L)

Generac 7676 GP8000E Portable

Gasoline: 10,000 peak watts

200 lb




Gasoline: Up to 15 hours at 25% load (7.9 gals/ 30L)

Generac G0071720 10 kW Guardian Home Standby Generator

Liquid propane: 10,000 peak watts


Natural gas: 9000 peak watts

338 lb




Liquid propane: Propane: At half load consumption at 0.97 gal/hr

Champion 8.5-kW Home Standby Generator

Propane: 8,500 peak watts


Natural gas: 7500 peak watts

365.1 lb




Propane: At half load consumption at 1.1 gal/hr
Generac 70432 Home Standby Generator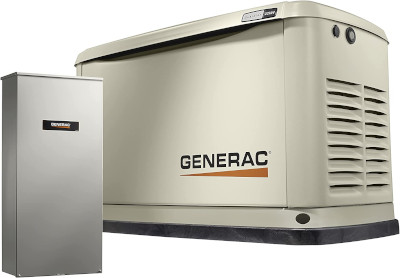 Generac 7043 is one of the most reliable standby generators you will find on the market. As you may have guessed from its size, this generator has enough power to provide an uninterrupted power supply during an outage.
The generator has a power output of 22000 watts, which allows it to power various appliances and electronics simultaneously. It also comes with a NEMA 3R aluminum enclosure to withstand outdoor use.
With the generator's mobile link wifi, you can get real-time status updates and alerts to your mobile device or PC on operating conditions. There is also an LCD monitor to check maintenance updates and other conditions.
Finally, the generator offers dual fuel capability. It can be powered by liquefied petroleum gas or natural gas fuel. In conclusion, the Generac 7043 is a reliable standby generator for homes or offices with advanced features.
Pros
Overload and short-circuit protection for safe usage of all your appliances and electronics from damage.
High power output
Duel fuel option with liquid propane and natural gas
Decent sound level of 67 dB
5-Year limited warranty
Cons
DuroStar DS13000EH Dual Fuel Portable Generator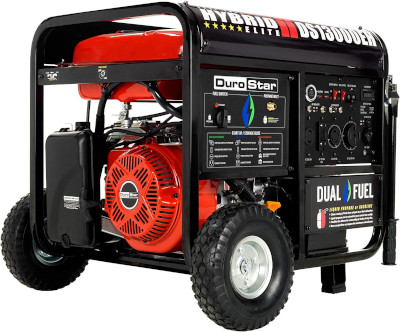 The DuroStar DS13000EH offers quality performance for your home, job site, or outdoor activities. It offers a user-friendly design with its push-button, digital voltmeter, and low oil sensor for easy starting and usage monitoring.
Another standout feature of the generator is its powerhouse 500cc OHV engine. For operation output, it has 13,000 starting watts and 10,500 running watts with a moderate volt level of 120 volts – ideal for powering up appliances and equipment.
There is also a dual-fuel capability that allows you to use either gasoline or propane to keep your generator running. On a full tank with its 8.3-gallon fuel tank of gasoline, it runs for over 8 hours at half load, which is plenty of time for a standby generator. If you would like to reduce fuel costs and get cleaner operation, you may consider using propane.
On a final note, the DuroStar DS13000EH generator provides multiple outlets to easily connect all of your devices and appliances. The outlets include a 240V 30A, a 120V 30A twist lock outlet, and 2 120V household GFCI outlets. Whether you need a generator for emergency, work, or recreation, the DuroStar DS13000EH is a worthy choice.
Pros
It runs on gasoline or propane
Push-button start
Wheels for easy mobility
Multiple outlets including two 120V GFCI outlets
Cons
An average noise level of 74 decibels
Westinghouse WGen9500DF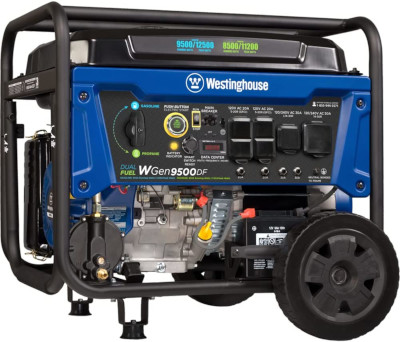 The Westinghouse WGen9500DF is an impressive power solution that can run on either gasoline or propane. The generator makes its claim as a standby power option with a runtime of up to 12 hours at 25% load on gasoline.
Moreover, the 4-stroke OHV design ensures that the engine runs smoothly with plenty of power to run all your essential appliances and equipment. You get 12500 peak watts for gasoline and 11200 peak watts for propane.
Another notable feature of the generator is its multiple connections. You have a transfer switch or ST switch for seamless power transfer during an outage and an RV-ready outlet to power up your appliances while on the road.
At 211 pounds, this generator isn't the lightest option on the market, but it's still relatively easy to move around thanks to its built-in wheels and fold-down handle. With the remote and electric start options, you have flexibility in how you choose to start the generator. With all the positives, the noise level of just 74 decibels may be a little bit noisy.
Pros
Transfer and ST switch ready
Remote and electric start option
Built-in handle and wheels for easy movement
High-rated power
Cons
The 74 decibels is not the brightest for neighbourhood
Generac 7676 GP8000E Portable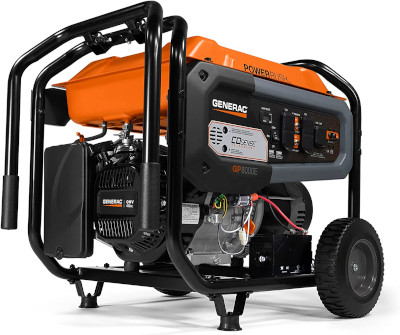 If you're in the market for a reliable and powerful generator, the Genik Generator is definitely worth considering. With 8,000 running watts and 10,000 peak watts, this generator is capable of handling a wide range of applications, from powering your home during an outage to running heavy-duty tools on a job site.
One of the standout features of the Genik Generator is its impressive runtime. With up to 15 hours at 25% load, you can rest assured that you'll have plenty of power to get you through the night or keep your essential appliances running during a power outage.
Another great feature of this generator is its electric start option, which makes it incredibly easy to get up and running. No more struggling with a pull cord or worrying about whether your generator will start in cold weather – just turn the key and you're good to go.
The Genik Generator is also designed with portability in mind. The dual grip with single folding makes it easy to move around, and at 200 lbs, it's not too heavy to lift and carry when needed.
In terms of durability, the Genik Generator is built to last. It features an OHV engine that's designed for long-lasting performance, so you can rely on it for years to come. Plus, the multiple outlets with 120 V GFCI Duplex outlets provide plenty of options for connecting your devices and appliances.
Overall, the Genik Generator is an excellent choice for anyone in need of reliable, powerful, and portable power. Whether you're a homeowner looking for backup power during an outage or a contractor in need of a dependable generator for your worksite, the Genik Generator has you covered.
Pros
Electric start for easy startup
Built-in handle with wheels
2 120 volts and 1 120V/240V outlets
Cons
Generac G0071720 10 kW Guardian Home Standby Generator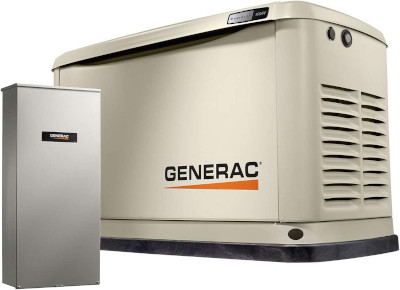 If you are looking for a permanent and dependable generator, the Generac 7172 10kW is a top-of-the-line option to consider. There is an option to run on either natural gas or liquefied petroleum gas. Both fuel options are suitable but differ in power output.
On liquefied petroleum, the generator can produce a maximum of 10,000 watts, while on natural gas it can provide up to 9000 watts – impressive output numbers all through. Surely sufficient power for large appliances and multiple rooms simultaneously
Despite its power, the Generac 7172 is relatively quiet at 61 dB A. This means you won't worry about using this generator in a residential area. Since it is designed to be a permanent standby generator, it weighs around 338 pounds.
Finally, the generator features all the needed indicators for operation monitoring including fuel level, maintenance prompts, and performance metrics. These features ensure your generator stays in top condition and is always ready when you need it.
Overall, the Generac 7172 10kW is an excellent choice for anyone who needs a powerful, versatile, and reliable generator. With its impressive output, lightweight design, and advanced monitoring features, it's sure to provide you with the peace of mind you need during power outages or other emergency situations.
Pros
Electric start for easy startup
Built-in handle with wheels
2 120 volts and 1 120V/240V outlets
Cons
Champion 8.5-kW Home Standby Generator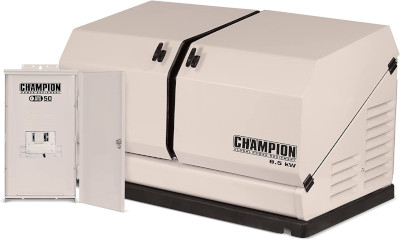 The Champion 8.5-kW is another durable standby generator with dual fuel capability. The generator delivers 8500 watts capacity for propane and 7500 watts for natural gas. There is enough power to keep your essential appliances and electronics running during a power outage.
The 4-stroke engine ensures efficient power and long-lasting use. Plus, with the 59.5 dBA noise level, the generator is suitable for your office or home without disturbing your neighbors.
The Champion 8.5-kW generator also comes with the EMA 3R enclosure, which makes it well-protected for outdoor use even in harsh weather conditions. Overall, the Champion 8.5-kW is an excellent choice that can run on both propane and natural gas with a low noise level, efficient engine, and high power output.
Pros
Low noise level at 59.5 dBA
LCD display for quick monitoring
Decent power output
Compatible Alexa Smart Home
Cons
How The Review Process Was Done
To make sure we have the best standby generators, we look at essential factors, expert reviews, customer ratings, and approval.
Firstly, we look at the average power required to light your home or office in the case of an outage. This allows us to provide a comprehensive list of generators that are powerful enough to meet your needs.
Another focus was to look at different brands and their respective models. We consider various features, such as brand reputation, customer service, and the unique features of each model, which ultimately give a satisfying experience.
We also assess the mechanical operation of each generator by checking the safety and reliability ratings. We take into account feedback provided by users, as well as certifications such as CARB and UL, to guarantee optimal working conditions.
Furthermore, we consider the environmental impact of each generator, evaluating their emissions and noise levels. With this, we have not only powerful and reliable but also environmentally friendly generators. Additionally, we take into account the ease of installing and setting up the generators considering their weight, dimensions, and startup features.
Overall, we strive to provide you with a comprehensive evaluation of each generator so you can make an informed decision.